JUMANA CLOWNFISH ALL AROUND 10'x30"x6" INFLATABLE STAND UP PADDLE BOARD WITH FREE ADJUSTABLE PADDLE & FREE LEASH (FREE SHIPPING)
JUMANA CLOWNFISH ALL AROUND 10'x30"x6" INFLATABLE STAND UP PADDLE BOARD WITH FREE ADJUSTABLE PADDLE & FREE LEASH (FREE SHIPPING)
CLOWNFISH 2019 10'x30"x6"
Si vous voulez votre CLOWNFISH 2019 svp assurez-vous de pré-commander pour la prochaine livraison JUIN 2019!
CONTACTEZ-NOUS POUR PLUS D'INFORMATION ET NOUS RÉPONDRONS À TOUTES VOS QUESTIONS!
CLIQUEZ ICI POUR NOUS CONTACTEZ!

If you want your CLOWNFISH 2019, please make sure you pre-order for next delivery date JUNE 2019!
CONTACT US FOR MORE INFORMATION AND IT WILL BE OUR PLEASURE TO ANSWER ALL OF YOUR QUESTIONS!
CLICK HERE TO CONTACT US!

MAXIMUM CAPACITY WEIGHT 325 LBS/147 KGS. IDEAL FOR RIDERS UP TO 275 LBS/124 KG.
CAPACITÉ MAXIMALE DE 325 LBS/147 KG. IDÉALE POUR DES PAGAYEURS JUSQU'A 275 LBS/124 KG.
VOLUME: 300 L
UP TO 20 PSI / JUSQU'À 20 PSI

CETTE PLANCHE DE SUP GONFLABLE JUMANA S'ADRESSE AUX PAGAYEURS QUI DÉSIRENT PRENDRE D'ASSAUT LES LACS, LES RIVIÈRES ET MÊME LA MER. PARFAITE AUTANT POUR LES DÉBUTANTS QUE POUR LES "RIDERS" PLUS EXPÉRIMENTÉS. SA LONGUEUR ET SON ÉTROITESSE FONT D'ELLE LA PLUS SPORTIVE DES "ALL AROUND" DE JUMANA BOARDS ET VOUS OFFRIRA PERFORMANCES SUPÉRIEURES AINSI QU'UNE RIGIDITÉ ET UNE FLOTTABILITÉ INDÉNIABLE. CETTE PLANCHE EST DISPONIBLE AVEC UNE TECHNOLOGIE INTÉGRANT UN "STRINGER" À UNE CONSTRUCTION "DOUBLE LAYER" BÉNÉFICIANT DE RAILS RENFORCÉS D'UNE COUCHE DE PVC 0.9MM. SON ALLURE CLASSIQUE DE "LONGBOARD" OFFRE UN MÉLANGE DE GLISSE ET DE POLYVALENCE. SON ÉPAISSEUR DE 6" AUGMENTE LA RIGIDITÉ ET SON VOLUME ASSURE UNE "RIDE" STABLE MAIS QUI DEMANDE TOUT DE MÊME PLUS D'ÉQUILIBRE QU'UNE PLANCHE PLUS LARGE ET DE PLUS GRAND VOLUME. DES AILERONS LATÉRAUX OFFRENT LA TRACTION REQUISE DANS LES PETITES VAGUES ET COMME D'HABITUDE NOUS AVONS SOIGNÉ LES DÉTAILS QUI NOUS CARACTÉRISENT ET QUI FONT LA DIFFÉRENCE.

LES PLANCHES GONFLABLES JUMANA BOARDS RÉPONDENT AUX PROBLÈMES DE STOCKAGE DE LA VIE CITADINE ET AUX BESOINS DU VOYAGEUR MODERNE. NOS PLANCHES GONFLABLES SE GONFLENT ENVIRON EN 8-10 MINUTES DÉPENDAMMENT DU RYTHME ET DES EFFORTS FOURNIS. ELLES SE DÉGONFLENT RAPIDEMENT ET SE TRANSPORTENT FACILEMENT DANS LE COFFRE D'UNE VOITURE OU SE RANGE AISÉMENT DANS UN PLACARD A LA MAISON.

SPECIFICATIONS
- LENGTH: 10' (306CM)
- WIDTH: 30" (77CM)
- THICKNESS: 6" (15CM)
- WEIGHT: 25 LBS (11 KG)
- VOLUME: 300 L
- UP TO 20 PSI

KEY FEATURES / DÉTAILS DU PRODUIT
- WIDE 5MM EVA PAD DIAMOND BLACK
- "V" MIDDLE BAND 5MM EVA PAD IN SNAKE SKIN BLACK
- 15CM PROGRESSIVE FRONT ROCKER
- STRINGER 5"
- 2 REMOVABLE SMALL SIDE CLICK FINS 4.5"  & 1 LONG CENTRAL FCS AIR7 US BOX KUMANO AI 9" FIN (Quickly install / remove your fins, stack multiple boards easily. Kumano® Ai , no fin screw required, just click in and go! Adjust your fins easily, anytime!)
- COMFORTABLE REMOVABLE VELCRO HANDLES WITH JUMANA BOARDS PRINTED LOGO
- REAR AND FRONT HANDLES WITH 2 INTEGRATED SIDE STAINLESS STEEL D-RINGS
  (FOR YOUR LEASH OR ANYTHING YOU NEED TO SECURE)
- HIGH PRESSURE ISUP AIR VALVE ALLOWING UP TO 20 PSI

DOUBLE-LAYER CONSTRUCTION
- 0.55MM/0.7MM REINFORCED PVC TARP - BEST QUALITY DROP STITCH MATERIAL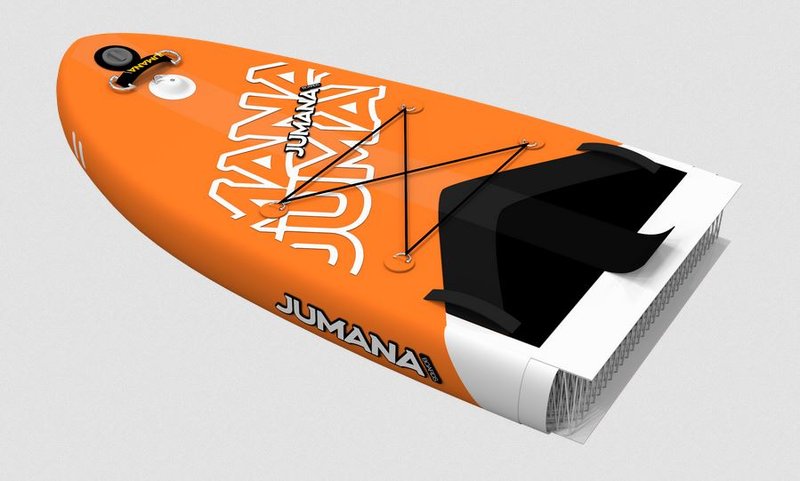 ACCESSORIES / ACCESSOIRES
- FREE JUMANA BLACK CARBON FIBER PADDLE ADJUSTABLE
- FREE COIL LEASH 10' JUMANA
- MESH BACK PACK JUMANA
- NEW BRAVO SUP4 DOUBLE ACTION HAND PUMP WITH GAUGE
- REPAIR KITS & USER MANUAL

PACKING BOX SIZE: 33" (85CM) X 17" (45CM) X 12" (30CM)




Reviews