JUMANA DOLPHIN PRO RIVER 9'x35"x6" INFLATABLE PADDLE BOARD ISUP (SPECIAL EDITION)
JUMANA DOLPHIN PRO RIVER 9'x35"x6" INFLATABLE PADDLE BOARD ISUP (SPECIAL EDITION)
EN RUPTURE DE STOCK! / OUT OF ORDER!
EN PRÉ-COMMANDE DÈS MAINTENANT POUR 2022! / IN PRE-ORDER NOW FOR 2022!
CHEZ JUMANA BOARDS NOUS PRÉCONISONS LA QUALITÉ À LA QUANTITÉ. PUISQUE QUE NOS QUANTITÉS SONT LIMITÉES, SVP ASSUREZ-VOUS D'AVOIR LA VÔTRE EN PLAÇANT VOTRE COMMANDE TOUT DE SUITE POUR LA RÉSERVER!
AT JUMANA BOARDS WE PROMOTE QUALITY INSTEAD OF QUANTITY.  SINCE OUR QUANTITIES ARE LIMITED, PLEASE MAKE SURE YOU HAVE YOURS BY PLACING YOUR ORDER NOW TO RESERVE IT!
POUR TOUTES QUESTIONS CONTACTEZ-NOUS / FOR ANY QUESTIONS CONTACT US:


DOLPHIN "PRO" RIVER & ALL AROUND 9'X35"X6" (EDITION SPÉCIALE / SPECIAL EDITION)
CAPACITÉ MAXIMALE  DE 370 LBS.  IDÉALE POUR DES PAGAYEURS JUSQU'À 315 LBS.
MAXIMUM CAPACITY WEIGHT 370 LBS,  IDEAL FOR RIDERS UP TO 315 LBS.
VOLUME: 345 LITRES / LITERS
JUSQU'À / UP TO: 20 PSI
CETTE PLANCHE DOLPHIN PRO A ÉTÉ CONÇUE SPÉCIALEMENT POUR LE SUP DE RIVIÈRE OU LE SUP SURF.  SA FORME PLUS LARGE ET PLUS COURTE QUE LA DOLPHIN EN FONT LA PLANCHE VRAIMENT PLUS STABLE DE TOUTES LES PLANCHES JUMANA.  SES ROCKERS AVANT ET ARRIÈRE ASSEZ PRONONCÉS  LUI DONNE UNE AGILETÉ LÉGENDAIRE.  ELLE SERA IDÉALE POUR CEUX ET CELLES QUI AIMENT JOUER DANS L'EAU ET QUI N'ONT PAS PEUR DE SE MOUILLER LORS DE LEUR DIVERSES AVENTURES EN EAUX-VIVES OU DANS LES VAGUES DANS L'OCÉAN. 

LES PLANCHES GONFLABLES JUMANA BOARDS RÉPONDENT AUX PROBLÈMES DE STOCKAGE DE LA VIE CITADINE ET AUX BESOINS DU VOYAGEUR MODERNE. NOS PLANCHES GONFLABLES SE GONFLENT ENVIRON EN 8-10 MINUTES DÉPENDAMMENT DU RYTHME ET DES EFFORTS FOURNIS. ELLES SE DÉGONFLENT RAPIDEMENT ET SE TRANSPORTENT FACILEMENT DANS LE COFFRE D'UNE VOITURE OU SE RANGE AISÉMENT DANS UN PLACARD A LA MAISON.

SPECIFICATIONS
- LONGUEUR / LENGTH: 9' (270CM)
- LARGEUR / WIDTH: 35" (88CM)
- ÉPAISSEUR / THICKNESS: 6" (15CM)
- POIDS / WEIGHT: 26LBS (12KGS)

KEY FEATURES / DÉTAILS DU PRODUIT
- WIDE 5MM EVA PAD DIAMOND & BRUSH
- 25CM PROGRESSIVE FRONT ROCKER
- REINFORCED WITH 6" STRINGER + 5" DYNEEMA SPECIAL MATERIAL ON TOP TO MAKE THE BOARD STIFFER
- 4 REMOVABLE SMALL SIDE CLICK FINS 4.5"  & 1 LONG CENTRAL FCS AIR7 US BOX KUMANO AI 9" FIN (Quickly install / remove your fins, stack multiple boards easily. Kumano® Ai , no fin screw required, just click in and go! Adjust your fins easily, anytime!)
- COMFORTABLE REMOVABLE VELCRO HANDLES WITH JUMANA BOARDS PRINTED LOGO
- REAR AND FRONT HANDLES WITH 2 INTEGRATED SIDE STAINLESS STEEL D-RINGS
  (FOR YOUR LEASH OR ANYTHING YOU NEED TO SECURE)
- 2 INSERTS IN THE MIDDLE OF THE BOARD FOR R&D PURPOSES
- HIGH PRESSURE ISUP AIR VALVE ALLOWING UP TO 20 PSI

PRE-LAMINATED CONSTRUCTION (SUPER NEW MATERIAL HIGH TEC FOR STIFFER AND LIGHTER BOARD SUP)
- TOP & BOTTOM: 1.5MM BEST QUALITY DROP STITCH MATERIAL
- RAIL: 0.55MM/0.9MM REINFORCED PVC TARP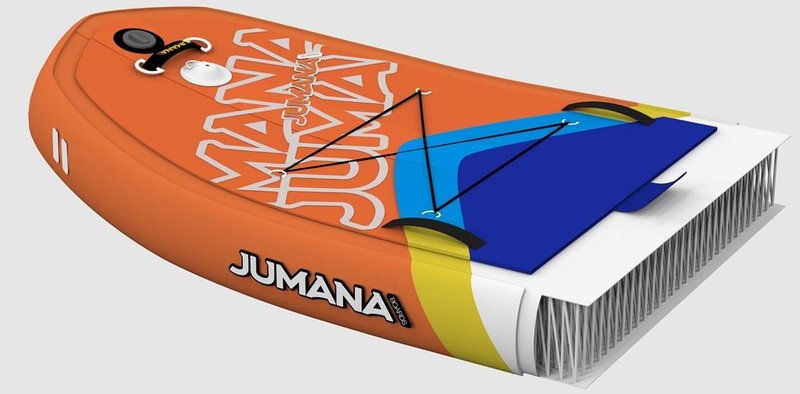 ACCESSORIES NOT INCLUDED/ ACCESSOIRES NON-INCLUS
PACKING BOX SIZE: 37" (94CM) X 17" (44CM) X 11" (27CM)
Reviews