DEMO JUMANA PARROTFISH 2018 TOURING 12'x32"x6" INFLATABLE STAND UP PADDLE BOARD ISUP
DEMO JUMANA PARROTFISH 2018 TOURING 12'x32"x6" INFLATABLE STAND UP PADDLE BOARD ISUP
DEMO - DEMO - DEMO - DEMO - DEMO
EN EXCELLENT ÉTAT!
DEMO PARROTFISH 2018 TOURING 12'x32"x6"

UP TO 20 PSI / JUSQU'À 20 PSI
VOLUME: 275 L

CAPACITÉ MAXIMALE DE 275 LBS / 125 KG. IDÉALE POUR DES PAGAYEURS JUSQU'A  225 LBS /  102 KG.
MAXIMUM CAPACITY WEIGHT 275 LBS / 125 KGS.   IDEAL FOR RIDERS UP TO 225 LBS / 102 KG.
LA PARROTFISH TOURING EST LA PLUS LONGUE DE NOS MODÈLES PROPOSÉS ET SE TRADUIT PAR UNE GLISSE ET UNE VITESSE OPTIMALES, TOUT EN RESTANT TRÈS MANŒUVRABLE. C'EST DONC LA PLANCHE IDÉALE AVANT D'ABORDER LES PLANCHES DE COURSE. ET GRÂCE À SA LARGEUR DE 32″, ELLE EST STABLE MAIS DEMANDERA DES PAGAYEURS D' EXPÉRIENCE POUR EN TIRER LE MAXIMUM.  ELLE CONVIENT PARFAITEMENT AUX EXPÉDITIONS PLUS LONGUES. VOUS RECHERCHEZ UNE PLANCHE CONÇUE POUR PARCOURIR DES KILOMÈTRES SANS VOUS ÉPUISER ? ELLE EST PARFAITE POUR VOUS.
LA GAMME DE PLANCHES DE SUP GONFLABLES JUMANA S'ADRESSE AUX PAGAYEURS QUI VEULENT PLUS DE SENSATIONS FORTES. CES PLANCHES VOUS OFFRIRONS PERFORMANCES SUPÉRIEURES AINSI QU'UNE RIGIDITÉ ET UNE FLOTTABILITÉ INDÉNIABLE GRÂCE À SA NOUVELLE TECHNOLOGIE EN COUCHE PRÉ-LAMINÉE PLUS LÉGÈRE ET PLUS RIGIDE.


SPECIFICATIONS
- UP TO 20 PSI
- VOLUME: 275 L
- WEIGHT: 27 LBS (12 KG)
- THICKNESS: 6" (15CM)
- WIDTH: 32" (82CM)
- LENGTH: 12' (366CM)

  KEY FEATURES / DÉTAILS DU PRODUIT
- WIDE 5MM EVA PAD DIAMOND BLACK
- 10CM PROGRESSIVE FRONT ROCKER
- REINFORCED WITH 6" STRINGER + 5" DYNEEMA SPECIAL MATERIAL ON TOP TO MAKE THE BOARD STIFFER
- 3 REMOVABLE SLID-IN FIN BOXES INCLUDING 1 LONG CENTRAL FIN + 2 SMALLER FINS

- COMFORTABLE REMOVABLE VELCRO HANDLES WITH JUMANA BOARDS PRINTED LOGO
- REAR AND FRONT HANDLES WITH 2 INTEGRATED SIDE STAINLESS STEEL D-RINGS
- D-RING UNDER THE NOSE OF THE BOARD
  (FOR YOUR LEASH OR ANYTHING YOU NEED TO SECURE)
- HIGH PRESSURE ISUP AIR VALVE ALLOWING UP TO 20 PSI
MSL FUSION TECHNOLOGY (MONOCOQUE STRCUTURAL TECHNOLOGY)

PRE-LAMINATED CONSTRUCTION (SUPER NEW MATERIAL HIGH TECH FOR STIFFER AND LIGHTER BOARD SUP)
- TOP & BOTTOM: 1.5MM BEST QUALITY DROP STITCH MATERIAL
- RAIL: 0.55MM/0.9MM REINFORCED PVC TARP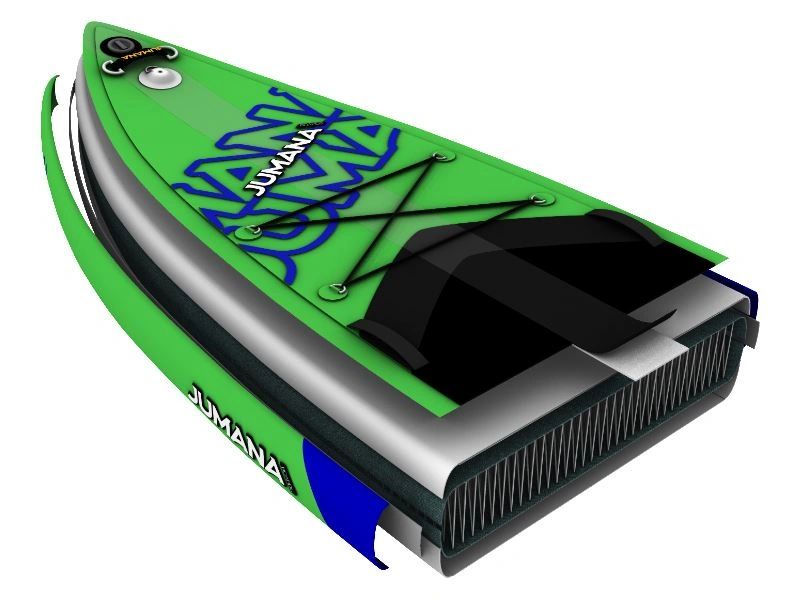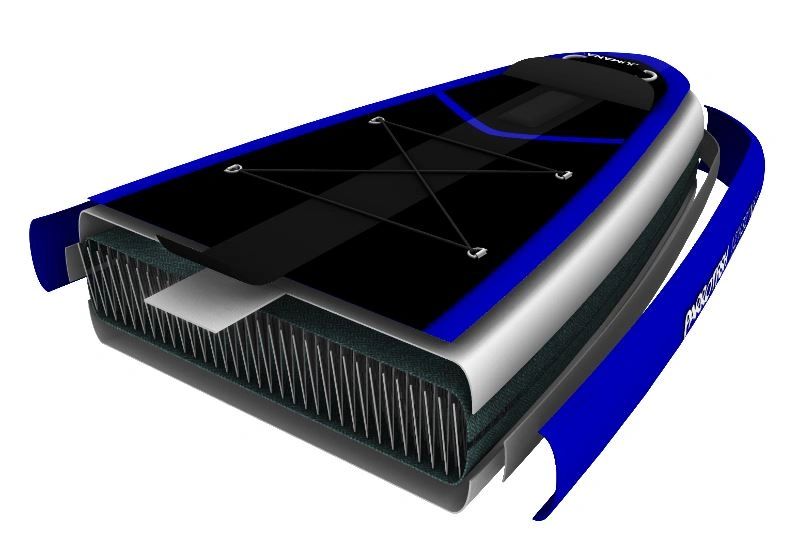 ACCESSORIES / ACCESSOIRES
- FREE USED JUMANA BLACK CARBON FIBER PADDLE ADJUSTABLE WITH PLASTIC BLADE

- FREE USED COIL LEASH 10' JUMANA
- FREE NEW SUPER COMFY BACK PACK
- NEW BRAVO SUP4 DOUBLE ACTION HAND PUMP WITH GAUGE (DEFLATING FUNCTION)

- REPAIR KITS & USER MANUAL

PACKING BOX SIZE: 33" (85CM) X 17" (45CM) X 12" (30CM)

Reviews