JUMANA BELUGA ALL AROUND/YOGA 10"x34"x6" INFLATABLE STAND UP PADDLE BOARD ISUP WITH FREE ADJUSTABLE PADDLE & FREE LEASH (FREE SHIPPING)
JUMANA BELUGA ALL AROUND/YOGA 10"x34"x6" INFLATABLE STAND UP PADDLE BOARD ISUP WITH FREE ADJUSTABLE PADDLE & FREE LEASH (FREE SHIPPING)
Pre-commande - disponible FIN avril OU DÉBUT MAI 2018!
CONTACTEZ-NOUS POUR PLUS D'INFO!

PRE-ORDER - AVAILABLE END OF APRIL OR BEGINNING OF MAY 2018!
MAXIMUM CAPACITY WEIGHT: 345 LBS
SUGGESTED IDEAL MAXIMUM WEIGHT: 295 LBS
VOLUME: 320 LITERS
UP TO 20 PSI
la beluga est une planche "all around" pour les débutants ainsi que pour les pagayeurs plus expérimentés parfaite pour vos ballades sur les eaux calmes autant qu'en eau plus agitée comme sur l'océan lors de vos voyages dans une île des caraïbes... Sa stabilité et sa flottabilité vous séduiront dans vos activités sur les eaux bleues... la beluga sera également votre meilleure amie pour vos sessions de sup yoga, sup pilates ou sup fitness...
the beluga is an "all around" board for beginners or more experienced paddlers perfect for your rides on calm waters as much as on moving water like the ocean during trips on a carribean island... Its stability and buoyancy will seduce you for activity on the blue water... the beluga will also be your best friend for your sup yoga, sup pilates or sup fitness sessions...
Specs:
- Length: 10' (305cm)
- Width: 34" (87cm)
- Thickness: 6" (15cm)
- Weight: 25 (12kgs)
Description:
- Wide 5mm EVA Pad Diamond & Brush
- 15cm Progressive Front Rocker
- Reinforced with 6" Stringer + 5" Dyneema special material on top to make the board stiffer
- 3 Removable Fins including 1 Long Central Slid-in Fin + 2 Small FCS Click Fins
- Comfortable Velcro Handles with JUMANA Boards printed Logo
- Rear and Front Handles with 2 integrated Side Stainless Steel D-Rings
(for your Leash or anything you need to secure)
- High Pressure ISUP Air Valve
Pre-Laminated Construction (Super New Material HIGH TECH for stiffer and lighter board SUP)
- Top & Bottom: 1.5mm Best Quality Drop Stitch Material
- Rail: 0.55mm/0.9mm Reinforced PVC Tarp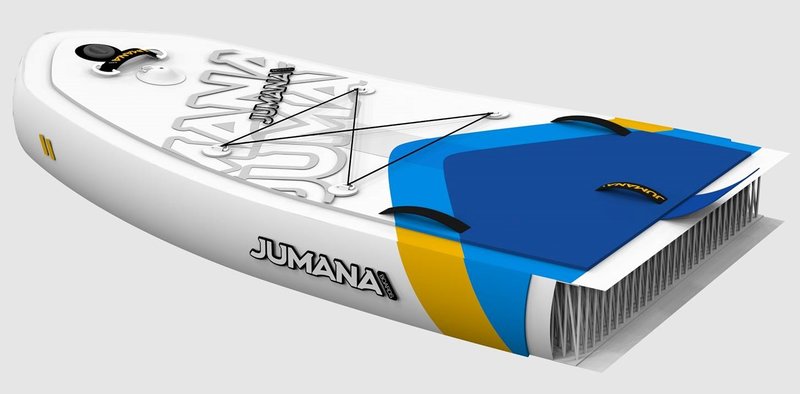 Accessories:
- FREE JUMANA Black carbon fiber Paddle Adjustable with Plastic Blade 3-sections

- FREE Coil Leash 10' JUMANA
- Black Back Pack jumana
- New Bravo Double Action Hand Pump with Gauge

- Repair Kits & User Manual
Packing Box Size: 37" (94cm) x 17" (44cm) x 11" (27cm)
Regardez cet excellent vidéo avec notre big mama beluga & notre barracuda!
Take a look at this amazing video with our big mama beluga & our barracuda!
Video Promo BIG MAMA BELUGA & BARRACUDA design JUMANA BOARDS

Reviews