JUMANA ANGELFISH TOURING/ADVENTURE 11"x33"x6" INFLATABLE STAND UP PADDLE BOARD ISUP WITH FREE ADJUSTABLE PADDLE & FREE LEASH (FREE SHIPPING)
JUMANA ANGELFISH TOURING/ADVENTURE 11"x33"x6" INFLATABLE STAND UP PADDLE BOARD ISUP WITH FREE ADJUSTABLE PADDLE & FREE LEASH (FREE SHIPPING)
EN RUPTURE DE STOCK! / BACK ORDER!
CHEZ JUMANA BOARDS NOUS PRÉCONISONS LA QUALITÉ À LA QUANTITÉ. PUISQUE QUE NOS QUANTITÉS SONT LIMITÉES, SVP ASSUREZ-VOUS D'AVOIR LA VÔTRE EN PLAÇANT VOTRE COMMANDE TOUT DE SUITE POUR LA RÉSERVER!
AT JUMANA BOARDS WE PROMOTE QUALITY INSTEAD OF QUANTITY.  SINCE OUR QUANTITIES ARE LIMITED, PLEASE MAKE SURE YOU HAVE YOURS BY PLACING YOUR ORDER NOW TO RESERVE IT!
POUR TOUTES QUESTIONS CONTACTEZ-NOUS / FOR ANY QUESTIONS CONTACT US:


ANGELFISH TOURING & ADVENTURE 11'X33"X6"
CAPACITÉ MAXIMALE  DE 295 LBS.  IDÉALE POUR DES PAGAYEURS JUSQU'À 245 LBS.
MAXIMUM CAPACITY WEIGHT 295 LBS,  IDEAL FOR RIDERS UP TO 245 LBS.
VOLUME: 270 L
JUSQU'À / UP TO: 20 PSI
CETTE PLANCHE A ÉTÉ CONÇUE POUR UNE GLISSE PARFAITE DANS VOS PROCHAINES AVENTURES...
THIS BOARD HAS BEEN DESIGNED FOR A PERFECT GLIDE FOR YOUR NEXT ADVENTURES...

LES PLANCHES GONFLABLES JUMANA BOARDS RÉPONDENT AUX PROBLÈMES DE STOCKAGE DE LA VIE CITADINE ET AUX BESOINS DU VOYAGEUR MODERNE. NOS PLANCHES GONFLABLES SE GONFLENT ENVIRON EN 8-10 MINUTES DÉPENDAMMENT DU RYTHME ET DES EFFORTS FOURNIS. ELLES SE DÉGONFLENT RAPIDEMENT ET SE TRANSPORTENT FACILEMENT DANS LE COFFRE D'UNE VOITURE OU SE RANGE AISÉMENT DANS UN PLACARD A LA MAISON.

SPECIFICATIONS:
- LENGTH: 11' (335CM)
- WIDTH: 33" (84CM)
- THICKNESS: 6" (15CM)
- WEIGHT: 23LBS (13KGS)
 
KEY FEATURES / DÉTAILS DU PRODUIT
- WIDE 5MM EVA PAD DIAMOND & BRUSH
- 20CM PROGRESSIVE FRONT ROCKER
- REINFORCED WITH 6" STRINGER + 5" DYNEEMA SPECIAL MATERIAL ON TOP TO MAKE THE BOARD STIFFER
- 3 REMOVABLE FINS INCLUDING 2 REMOVABLE SMALL SIDE CLICK FINS 4.5"  & 1 LONG CENTRAL FCS AIR7 US BOX KUMANO AI 9" FIN (Quickly install / remove your fins, stack multiple boards easily. Kumano® Ai , no fin screw required, just click in and go! Adjust your fins easily, anytime!)
- COMFORTABLE VELCRO HANDLES WITH JUMANA BOARDS PRINTED LOGO
- REAR AND FRONT HANDLES WITH 2 INTEGRATED SIDE STAINLESS STEEL D-RINGS
  (FOR YOUR LEASH OR ANYTHING YOU NEED TO SECURE)
- HIGH PRESSURE ISUP AIR VALVE ALLOWING UP TO 20 PSI
NEW "FUSION WOVEN "X" DROP STITCH"  MSL* TECHNOLOGY
(*MONOCOQUE STRUCTURAL LAMINATE)
EXTRA LIGHTER - STRONGER - STIFFER /
EXTRA PLUS LÉGER - PLUS SOLIDE - PLUS RIGIDE


PRE-LAMINATED CONSTRUCTION (FUSED LAYER ONE SHOT LAMINATION "GLUE FREE LAY UP")
- TOP & BOTTOM: 1.5MM BEST QUALITY DROP STITCH MATERIAL
- RAIL: 0.55MM/0.9MM REINFORCED PVC TARP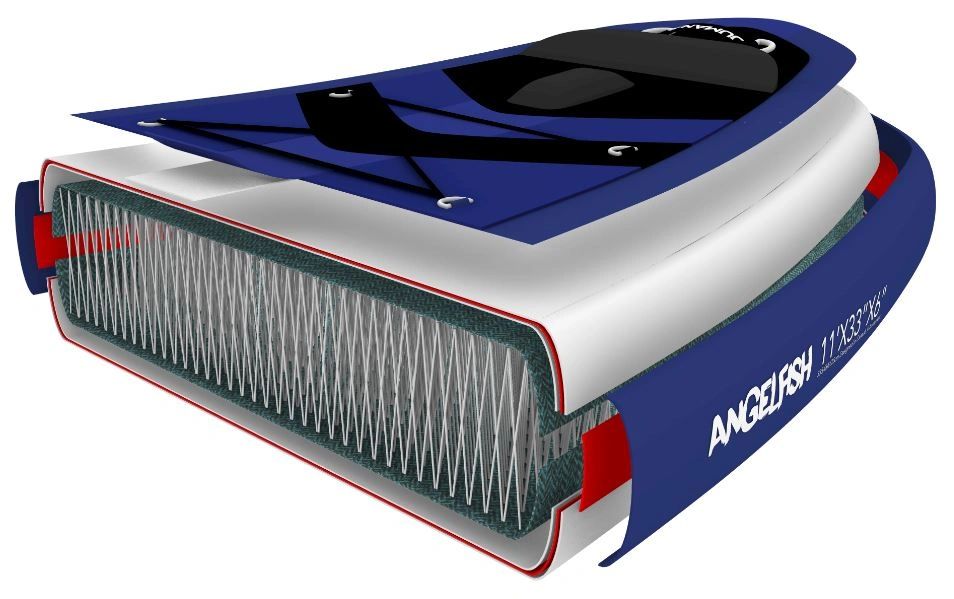 ACCESSORIES / ACCESSOIRES
- FREE JUMANA BLACK CARBONE FIBER PADDLE PLASTIC BLADE 3-SECTIONS ADJUSTABLE
- FREE COIL LEASH 10' JUMANA
- FREE BLACK BACK PACK BAG JUMANA
- NEW BRAVO SUP4 DOUBLE ACTION HAND PUMP WITH GAUGE
- REPAIR KITS & USER MANUAL

PACKING BOX SIZE: 37" (94CM) X 17" (44CM) X 11" (27CM)

Regardez cet excellent vidéo avec notre big mama beluga & notre barracuda!
Take a look at this amazing video with our big mama beluga & our barracuda!
Video Promo BIG MAMA BELUGA & BARRACUDA design JUMANA BOARDS

Reviews