JUMANA ANGELFISH TOURING/ADVENTURE 11"x33"x6" INFLATABLE STAND UP PADDLE BOARD ISUP WITH FREE ADJUSTABLE PADDLE & FREE LEASH (FREE SHIPPING)
JUMANA ANGELFISH TOURING/ADVENTURE 11"x33"x6" INFLATABLE STAND UP PADDLE BOARD ISUP WITH FREE ADJUSTABLE PADDLE & FREE LEASH (FREE SHIPPING)
Pre-commande - disponible FIN avril OU DÉBUT MAI 2018!
CONTACTEZ-NOUS POUR PLUS D'INFO!

PRE-ORDER - AVAILABLE END OF APRIL OR BEGINNING OF MAY 2018!
MAXIMUM CAPACITY WEIGHT: 295 LBS
SUGGESTED IDEAL MAXIMUM WEIGHT: 245 LBS
VOLUME: 270 LITERS
up to 20 psi

This board has been designed for a perfect glide for your next adventures...
Cette planche a été conçue pour une glisse parfaite dans vos prochaines aventures...

SpecIFICATIONs:
- Length: 11' (335cm)
- Width: 33" (84cm)
- Thickness: 6" (15cm)
- Weight: 28lbs (13kgs)
Description:
- Wide 5mm EVA Pad Diamond & Brush
- 15cm Progressive Front Rocker
- Reinforced with 6" Stringer + 5" Dyneema special material on top to make the board stiffer
- 3 Removable Fins including 1 Long Central Slid-in Fin + 2 Small FCS Click Fins
- Comfortable Velcro Handles with JUMANA Boards printed Logo
- Rear and Front Handles with 2 integrated Side Stainless Steel D-Rings
(for your Leash or anything you need to secure)
- High Pressure ISUP Air Valve
Pre-Laminated Construction (Super New Material HIGH TECH for stiffer and lighter board SUP)
- Top & Bottom: 1.5mm Best Quality Drop Stitch Material
- Rail: 0.55mm/0.9mm Reinforced PVC Tarp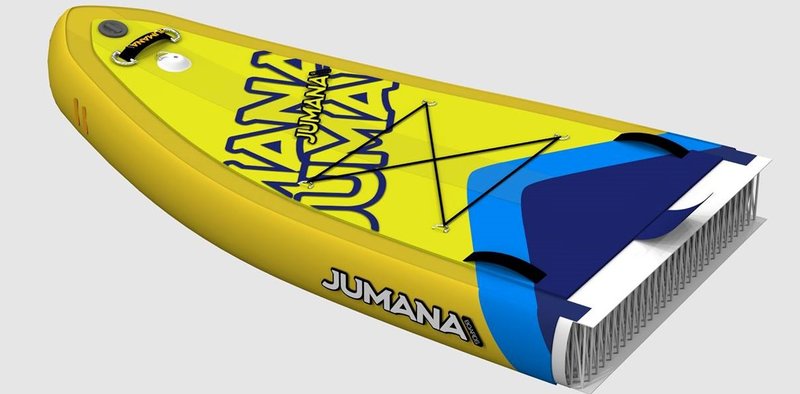 Accessories:
- FREE JUMANA Black Aluminum Paddle Plastic Blade 3-sections Adjustable
- FREE Coil Leash 10' JUMANA
- Black Back Pack jumana
- New Bravo Double Action Hand Pump with Gauge with Deflating Function
- Repair Kits & User Manual
Packing Box Size: 37" (94cm) x 17" (44cm) x 11" (27cm)

Regardez cet excellent vidéo avec notre big mama beluga & notre barracuda!
Take a look at this amazing video with our big mama beluga & our barracuda!
Video Promo BIG MAMA BELUGA & BARRACUDA design JUMANA BOARDS

Reviews