JUMANA DOLPHIN RIVER & ALL AROUND 9'6"x35"x6" INFLATABLE STAND UP PADDLE BOARD ISUP WITH FREE ADJUSTABLE PADDLE & FREE LEASH (FREE SHIPPING)
JUMANA DOLPHIN RIVER & ALL AROUND 9'6"x35"x6" INFLATABLE STAND UP PADDLE BOARD ISUP WITH FREE ADJUSTABLE PADDLE & FREE LEASH (FREE SHIPPING)
Pre-commande - disponible FIN avril OU DÉBUT MAI 2018!
CONTACTEZ-NOUS POUR PLUS D'INFO!

PRE-ORDER - AVAILABLE END OF APRIL OR BEGINNING OF MAY 2018!
MAXIMUM CAPACITY WEIGHT: 365 LBS
SUGGESTED IDEAL MAXIMUM WEIGHT: 315 LBS
VOLUME: 340 LITERS
up to 20 psi

WATCH THIS NEW VIDEO FROM THIERRY DOIZON with THE DOLPHIN https://www.youtube.com/watch?v=HSVAGcP3Pcg
Specs:
- Length: 9'6" (285cm)
- Width: 35" (88cm)
- Thickness: 6" (15cm)
- Weight: 10~13kgs
Description:
- Integrated GoPro mount on nose of the board
- Wide 5mm EVA Pad Diamond & Brush
- 20cm Progressive Front Rocker
- Reinforced with 6" Stringer + 5" Dyneema special material on top to make the board stiffer
- 5 Removable Fins including 1 Long Central Slid-in Fin + 4 Small FCS Click Fins
- Comfortable Velcro Handles with JUMANA Boards printed Logo
- Rear and Front Handles with 2 integrated Side Stainless Steel D-Rings
(for your Leash or anything you need to secure)
- High Pressure ISUP Air Valve
Pre-Laminated Construction (Super New material high tec for stiffer and lighter board SUP)
- Top & Bottom: 1.5mm Best Quality Drop Stitch Material
- Rail: 0.55mm/0.9mm Reinforced PVC Tarp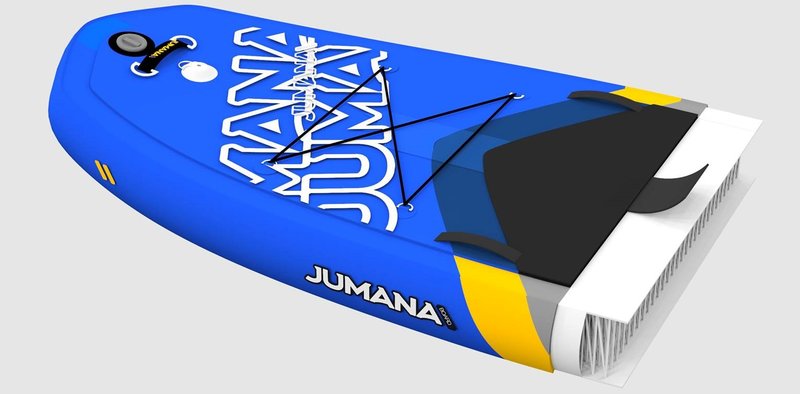 Accessories:
- FREE JUMANA Black Aluminum Paddle Plastic Blade 3-sections Adjustable
- FREE Coil Leash 10' JUMANA
- Black Back Pack jumana
- New Bravo Double Action Hand Pump with Gauge with Deflating Function
- Repair Kits & User Manual
- Packing Box Size: 37" (94cm) x 17" (44cm) x 11" (27cm)
The most fun job ever!!!
My friend Martine Jodoin from JUMANA BOARDS Inc. asked me to test her newest iSup design: The Dolphin.
The Dolphin is a product of the collaboration between JUMANA BOARDS –a Quebec based iSup company- and Thierry Doizon, founder of Sup White Water Quebec, a community group that has sharing the passion as a goal.
The first Dolphins just came in and we were lucky enough to go out and try them at the Centre d'excellence d'eau vive de Valleyfield, Kayak Valleyfield a non-for profit white water public park and an amazing venue to paddle and have fun.
I realized that testing SUP designs has to be the most fun job ever….. wait a minute, did I mentioned the word job?
The Dolphin measures 9'6"X35"X6" which makes it stable yet maneuverable. Thierry thought about some really cool features: rugged outfitting, angled traction pad, interchangeable fins featuring 5 points of attachment so you can choose to make the Dolphin river friendly or surf friendly and a go pro mount.
I hope you enjoy the video as much as we enjoyed testing The Dolphin!
VIDEO - The Dolphin or the most fun job ever by Santiago Berrueta
Reviews