JUMANA BARRACUDA RACING/DRAGON BOARD 22'x34"x8" INFLATABLE PADDLE BOARD ISUP
JUMANA BARRACUDA RACING/DRAGON BOARD 22'x34"x8" INFLATABLE PADDLE BOARD ISUP
BARRACUDA RACING & DRAGON BOARD 22'x34"x8"
MAXIMUM CAPACITY WEIGHT: 965 LBS / CAPACITÉ MAXIMUM EN POIDS: 965 LBS

SUGGESTED IDEAL MAXIMUM WEIGHT: 915 LBS / POIDS MAXIMUM IDÉAL SUGGÉRÉ: 915 LBS

VOLUME: 940 LITERS / VOLUME 940 LITRES

UP TO20 PSI / JUSQU'À:  20 PSI

Cette planche a été spécialement conçue pour 4 pagayeurs qui pousseront leur limites au maximum...
This board has been especially designed for 4 paddlers that will push their limits in every way...

Regardez cet excellent vidéo avec notre big mama beluga & notre barracuda!
Take a look at this amazing video with our big mama beluga & our barracuda!

Video Promo BIG MAMA BELUGA & BARRACUDA design JUMANA BOARDS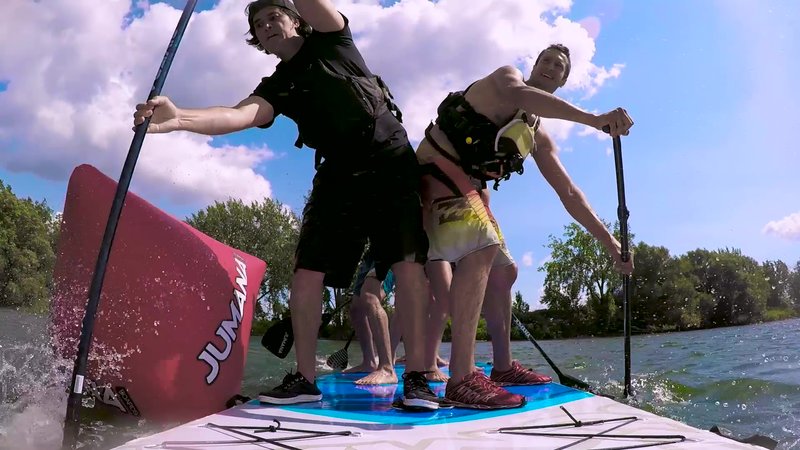 Specs:
- Length: 22' (670cm)
- Width: 34" (86cm)
- Thickness: 8" (20cm)
- Weight: 60 lbs

 Description:
- Integrated GoPro mount on nose of the board
- Wide 5mm EVA Pad Diamond & Brush
- 15cm Progressive Front Rocker
- Reinforced with 6" Stringer + 52" Dyneema special material on top to make the board stiffer + Extra Stringer at bottom
- 5 Removable Fins including 1 Long Central US BOX Fin + 4 Small FCS Click Fins
- Comfortable Velcro Handles with JUMANA Boards printed Logo
- Rear and Front Handles with 2 integrated Side Stainless Steel D-Rings
+ many carry handles on each side (for your Leash or anything you need to secure)
- 4 High Pressure ISUP Air Valve to allow multiple user to pump air in
MSL FUSION TECHNOLOGY (MONOCOQUE STRUCTURAL LAMINATE)

Construction
- Best Quality Drop Stitch Material (SUPER NEW MATERIAL HIGH TECH FOR STIFFER AND LIGHTER BOARD SUP)
- Rail: 0.55mm/0.9mm Reinforced PVC Tarp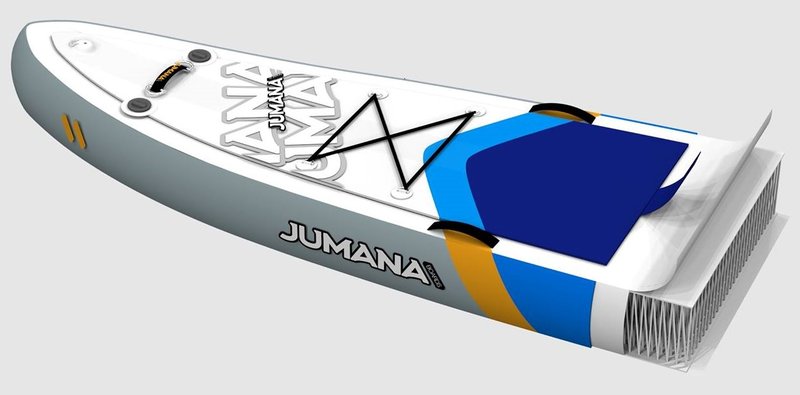 Accessories:
- 1 New Bravo SUP4 Double Action Hand Pump with Gauge with Deflating Function
- Repair Kits & User Manual
* SVP PRENEZ NOTE QUE LES PAGAIES NE SONT PAS INCLUSES À CE PRIX! / PLEASE TAKE NOTE PADDLES ARE NOT INCLUDED IN THAT PRICE!
- Packing Box Size: 36" x 24" x 24"

Reviews